15 Top Selling Gift Card Ideas In Bangladesh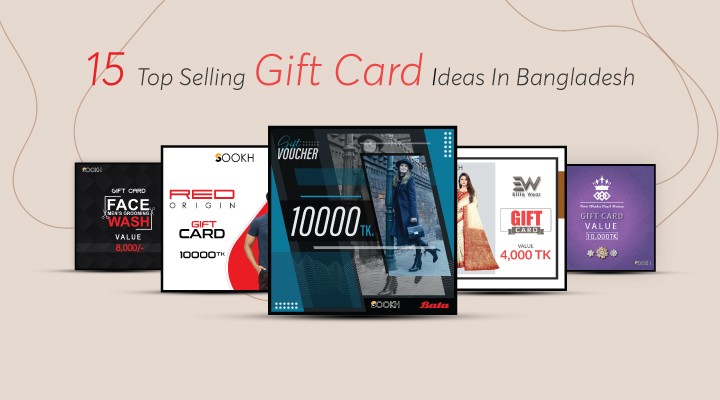 15 Top Selling

Gift Card Ideas

in Bangladesh: Your Loved Ones Deserve The Best!
Since you've decided to pick out the best gift card for your friends and families, it's time to explore. We have a few gift card ideas to put spark your interest. Take a look at the following and choose what your heart desires.
3. The Perfect Man Premium Card
4. The Perfect Man Salon Gift Card
7. Face Wash Grooming Salon Voucher 1
8. Face Wash Men's Salon Voucher 2
12. New Dhaka Pearl House Gift Card
15. Bata Gift Card
It's The Thought That Counts in Gift Card
Getting the right gift for someone can be scarier than you'd think, especially when you put a lot of thought into it, only for the person not to like the present. Spending time thinking over what to buy and getting an adverse reaction is something we want to avoid. Gift-giving sounds fun, but not when you don't have anything good to get them.
Are you worried about what to get your loved ones for the coming holidays? Then we've got just what you need with some of the best gift card ideas on the internet. It's a great idea because now you're giving someone the safer option of getting something for themselves. They don't have to end up getting disappointed if it's their choice, so check out what we got below.
How Do You Choose The Right Gift Card For Someone?
Choosing the right gift card can be confusing, but with our gift card ideas, you can relax. It all depends on the person you are buying it for. Getting them a gift card to their favorite stores may be a good choice, but we have more ideas for you to look at.
The first thing to do is to figure out how you can choose the right gift card, and we're here to help you with that. From budget to variation, we've got it all here for you!
When you get someone a gift card, the first thing to remember is to get them a card they can use in a close location. If they must travel more than a mile to find a store for their card, they're better off not using it. Most gift cards are also received through online services. You can get someone a gift card to their favorite online stores if the physical location is too far away.
It's only an appropriate choice if the person you're buying the card for will be happy with it. Know your recipient before getting a card because not everyone will be happy with a gift card. Even if they don't use the card, they can still sell it online, as unused gift cards have a market for buying and selling.
Most gift cards have users not even spending the entire amount that the cards are worth. You'd be surprised to learn how much gift card money is left unused, with the number ranging into the billions! It makes you more conscious about your choice of gift card because you might feel like you'll be wasting money if the gift card isn't used entirely.
Choose a card you think is within your budget because it's a safer choice than an expensive gift card. A gift card to their favorite coffee shops or music services is an excellent option to look forward to. Who could say no to their favorite tunes and a good cup of coffee?
How you deliver a gift card is essential. You can choose to deliver it physically, and it's not a bad idea, but do you want to spend time wrapping a card as a gift? It sounds like too much effort for a card so why not go the digital route and deliver it through online means instead? The internet allows us to send a gift card through any messaging system where it is permitted. You can be professional and send it through an email or figure out which social media app they're most active. You can send it there as they'll have a higher chance of seeing your message.
What Do You Need To Watch Out For?
A gift card will come in handy, but there are a few things to watch out for Incase you're making the wrong decision. You don't have to worry too much about our gift card ideas, but it's always a good idea to be conscious of what you're buying.
When getting a gift card, check the dates on it. Most gift cards work within a certain period, so you must be conscious of that. For example, if the gift card you're getting only has a year to go before it expires, it needs to be used before that time. If not used, you'll sadly end up wasting your precious money.
Understand the limitations of the gift card and what it is worth. Gift cards are worth a specific amount of money, so choose a good price unless you want your recipient to spend more than the gift card is worth. The best way to avoid this problem is to attach a note to the gift card with the specified limits.
If you're close to the person you'll be gifting a card, then you have an easier choice to make. Regardless, with our gift card ideas, you'll always be able to choose something fun and exciting.
We hope we made your choice easier with some of our options, so what are you waiting for? Check them out right now!
Leave A Reply
Your email address will not be published. Required fields are marked *