20 Must-Have Grocery Product List For Durga Puja Festival In 2022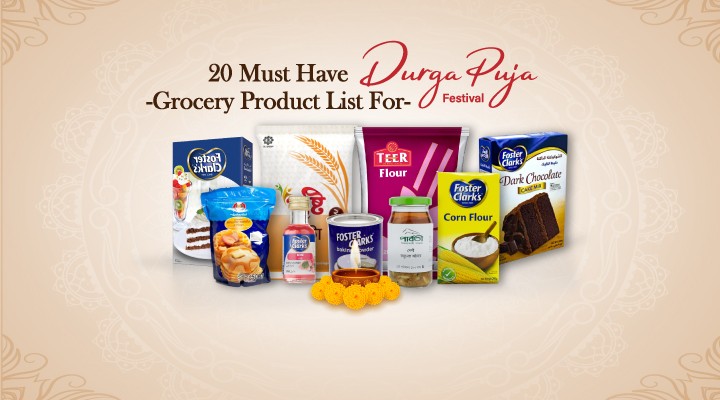 20 Must-Have

Grocery Product List

For Durga Puja Festival In 2022
You know what kind of items you need to include in your grocery product list. That doesn't mean you'll always be able to find what you need. So, we have created a list of 20 items of groceries for you to choose from.
1. Chola Boot
2. Pushti Ata
3. Booter Dal
5. Mosur Dal
6. Suzi
7. Maida
10. Canned Mushroom
12. Canned Baby Corn
13. Food Color
15. Icing Sugar
17. Tempura Flour
18. Pancake Mix
19. Baking Powder
20. Corn Flour
Shopping for your usual groceries can be a hectic experience when you're buying a huge list of groceries. What about shopping for a holiday occasion? You can take that difficulty and multiply it by two because you're in for one long shopping trip to your local stores. You might have no clue about what you need, but don't worry because we've got everything sorted out for you.
Durga Puja is one of the most joyous occasions of the year, filled with love, laughter, and worship. It's a time when everyone gets together to celebrate, so you need to do all you can to prepare for the festive events coming your way.
From food shopping to Puja shopping, we've got all that you need for your Durga Puja with our grocery product list, so check out what we've got in store.
When Does Durga Puja Start, And How Do People Celebrate It?
We'll get into the Durga Puja grocery product list later, but first, we want to ask if you know why Durga Puja happens every year. If you don't, then it's alright. We hear to shed some light on the festival if you're interested in finding out more.
Durga Puja is considered a ten-day festival by followers of the Hindu religion. The first five days consist of normal activities with worship in mind, but the last five days are considered more important to Hindus. It follows the Indian calendar during the month of Ashwin. When compared to the usual calendar at your homes, it falls between the end of October and the start of September.
The first day of Durga Puja is known as Mahalaya, where Hindus make offerings of food and water to their dead ancestors. The next four days will go on as usual, and it is the sixth day when the festivities actually start taking off. On the sixth day, people welcome the goddess and proceed with celebrations. Starting from the seventh till the ninth day, multiple gods and goddesses are worshipped and revered, including Lakshmi, Saraswati, Ganesha, and Kartikeya. These three are the main days when followers recite scriptures and stay busy with worship.
Durga Puja is a huge celebration during these ten days, and one step outside is all you need to see what goes on for yourself. The masses of the Hindu religion will stay busy socializing with each other while they build idols of their deities, along with pandals, which they commit to prayers. Community centers are the places to go if you're looking for huge celebrations, but even the streets are likely to be covered in decorations.
There are certain rituals that must be done before and during the actual Puja. These pujas are as follows:
· Paata Puja, where people start building idols for worship during the festival, where paata refers to the base where the idol stands.
· Bodhana, which begins on the sixth day. This includes following specific rites to awaken the goddess and to also welcome her.
· Adhivasa, where offerings are made to Durga, and this usually occurs on the sixth day of the Durga puja.
· Navapatrikasnan, where people bathe the nabapatrika with holy water.
· Sandhi puja and Ashtamipushpanjali, where people celebrate on the eighth and ninth days of the Puja. 108 lamps are lit up, including offering 108 lotuses. This ritual usually lasts up to 48 minutes long.
What Do You Need To Celebrate Durga Puja?
Now that you know what you need to know about Durga puja, it's time to get into the grocery product list for the coming festivities. The following is what you need to have for every home during the puja period.
· First, you will need a picture of the goddess Durga which you need to begin the prayer rituals.
· A clay pot is needed because you need something to store water and barley seeds with.
· You will need a piece of red cloth and a coconut to crack during the prayer, as Hindus consider it to be auspicious. You will also need a tray filled with betel leaves to place on the pandal.
· The stalk of mango with five leaves attached.
· A bunch of flowers along with coins, incense, and a lot of candles, as many as you feel like you need.
· Grains of rice, along with ghee arranged together on a steel tray or Thali.
Finally, you will need items for Prasad, which include things like sweets consisting of laddu or Sandesh, along with any kind of fruits of your preference.
Durga Puja is one of the major religious festivals in Bangladesh. To celebrate this event, you'll find everything you need at Sookh.com. Just browse through our site, and get what you want!
If you found what you need from this grocery product list, then that's all that we wish for. Our goal is to get you whatever you need so that every festive occasion is as special as the next one. Make sure you take a good look at our list of groceries, and you will surely have a memorable Durga puja experience.
Leave A Reply
Your email address will not be published. Required fields are marked *