Best Deal And Offers Durga Puja Festival Items On Sookh | DurgaPuja Special Shopping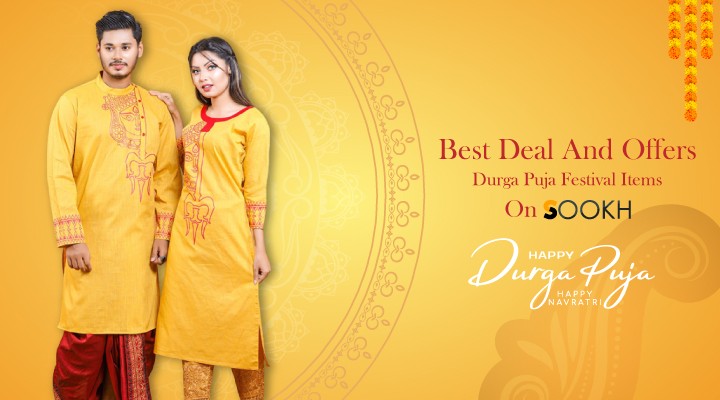 Best Deal And Offers Durga Puja Festival Items On Sookh | Durga
Puja Special
Shopping
It's finally time to get into the Durga special shopping list. You may be aware of everything, but still be careful in your consideration for what you'll buy because you might end up with something less usable. You want your loved ones to be happy with the presents, and we're here for you.
This is why we have come up with the following list to make your shopping experience hassle-free!
1. Puja Special Panjabi For Men- 18440P
2. Puja Special Panjabi For Men- 18569P
3. Puja SpecialKurti For Women- 18570K
4. Puja Special Matching Couple Set- 18573C
5. Puja Special Red Couple Set- 18420C
Durga Puja Shopping: Only The Best For Your Loved Ones!
Festive occasions are one of the best moments in a year when you can sit down and have fun with the whole family. From occasions like Christmas to Eid, every holiday is one filled with history.
These days, people from all over come together to forget their differences and spend precious time with their loved ones. These are the seasons of gift-giving and having fun, which is a refreshing experience for many people.
The Hindu festival, Durga Puja, is an occasion that happens yearly and keeps people of the religion waiting in anticipation. Durga Puja is a festival that lasts ten days, and people all over pay homage to the goddess Durga during the following days. You might be looking to spice things up on this joyous occasion, so we have the perfect DurgaPuja Special Shopping list for you.
What Is Durga Puja, And Why Do People Celebrate It?
Before we get into the list for the puja Special Shopping, you might be interested in learning a bit more about what goes on behind the festival, along with why people celebrate the occasion.
Durga Puja is a festival celebrated mainly by the people of India, where the Hindu population is the largest. Many people in
locations such as Bangladesh, West Bengal, and Assam also like to celebrate Durga Puja as they also have a high Hindu population. Like most festivals, Durga Puja is an event filled with dancing, singing, and merrymaking, but it is also filled with worship for the goddess Durga.
Durga Puja, which also has two different names, Durgotsava and Sharadotsav, is a festival celebrating Durgas winning against Mahishasur. In Hindu culture, Mahishasur is a demon who gets slain by the goddess Durga with her trident.
The festival is usually celebrated between September and October and lasts ten days, as stated above. During these ten days, you can't get anywhere without catching a glimpse of people busy with festivities and worship in their homes and on the streets. Yep, you heard it right. The festival is so huge that people even take it on the roads!
The festival is celebrated to remind the people of the victory of good against evil through Durga's battle against Mahishasur. Many people also treat it as a harvest festival, as the goddess Durga is also treated as a mother goddess of life and creation in Hindu mythology. Durga Puja is such a monumental occasion that it even has people celebrating the worship of other Hindu gods during the ten days.
These include deities such as Lakshmi, Saraswati, and Ganesha. Most celebrations of the Durga Puja start reaching their peak during the sixth day when everyone is busy with rituals welcoming the goddess. On the final day, after all the celebrations have concluded, the people carry an idol of the goddess and submerge it in their local rivers and ponds.
These days as times change, people who usually don't like sticking to tradition have different ways of celebrating the festival. Some like a more laid-back approach to the festival, whereas others go all out with their festivities, sticking to the recorded guidelines for Durga Puja. Despite this, there is always a constant which remains.
The streets are covered in decorations of different colors and designs and, like many other festivities, the usage of fireworks to end the night of celebration. It has grown over the many centuries people celebrate it, starting as a family festivity to something celebrated by entire cities together. No one wants to get behind, so prepare to shop for your perfect Durga Puja holiday.
What Do You Need To Celebrate Durga Puja?
Now that you know more about the festival, it's time to get into the main topic to find out what you need for your puja Special Shopping list. Get ready because this festival requires a lot of preparation, but we'll be getting into the main things you should have to make your Durga experience more memorable.
In times like this, things like sindoor and other natural makeup resources such as mehndi become high demand. You need to look your best for the puja occasion. From glamorous earrings to golden necklaces, it's time to bring out the expensive jewelry.
Mustard oil or sesame oil will serve as great material for the many lamps you will be lighting up, so stock up. You will also need cotton wicks to light the lamps.
Get some gangajal ready because you need it to cleanse the surroundings of where you will pray, Dhoop, which you need to fill the house with smoke and coconuts for rituals. You will need many trays to set up the many offerings, including sweets, fruits, and flowers, to make the puja area more vibrant.
It's always nice to look your best during a festival, and you can do just that with our Durga special shopping list. Paint yourself with the colors of the festival for a good night of celebration and love. We hope your Durga experience remains filled with joy and affection because you deserve it.
Leave A Reply
Your email address will not be published. Required fields are marked *