Best Gaming Phones Under 15000 Taka in Bangladesh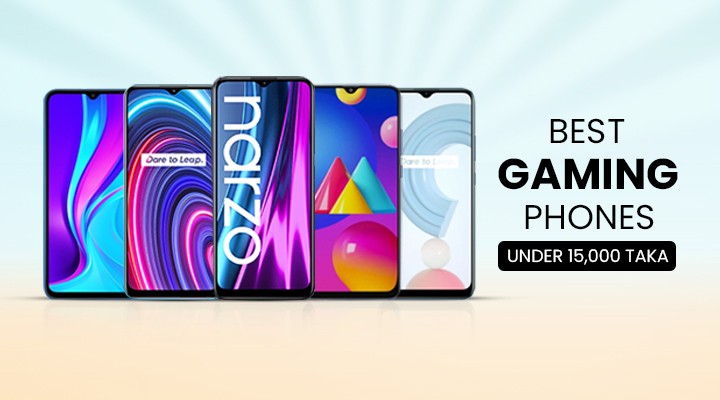 Best
Gaming Phones Under 15000 Taka in Bangladesh

: The Essentials At Cheapest Price

Now that you know all you need about budget gaming phones, it's time to get into the main topic, the list of best gaming phones under 15000 in Bangladesh.

If you want the best performance from your phone, you have to spend more than 15,000 BDT. Good performance is ensured only by good specs, which come at a price. But that doesn't mean there aren't good options for you if you're looking for gaming phones under 15000 Taka in Bangladesh.

Don't make any hasty decisions, although, because with technology, you need to consider what you're getting. To make that decision easy, please check out our budget-friendly options below.

2. Realme C25Y

4. Redmi 9 Dual

5. Realme C21
Realme Budget Gaming Phones: Best Quality At Best Prices
Video games are one of the best ways to pass the time, and the number of never-ending games available for download keeps us coming back for more. You can enjoy various games, from racing games such as Asphalt or Real Racing to shooters like Call Of Duty, all with just a phone. The internet has also made it easy for multiplayer access so that you can play with your friends no matter where you are.
People usually worry that they can't afford the incredible prices gaming phones seem to have. Well, should you? Not because we have just what you're looking for—a list of the best gaming phones under 15000 Taka in Bangladesh. Anyone can afford these, so take a look to get started on your gaming journey.
What Should A Gaming Phone Have?
Before we get into the list of the best gaming phones under 15000 Taka in Bangladesh, you should know why you choose a gaming phone over a usual smartphone.
Whereas regular smartphones are geared towards the usual services of taking pictures, picture quality, and video quality, gaming phones aim to provide a high-quality gaming experience. They usually have more hardware than your standard phones, especially in terms of power and graphics. A good gaming phone should have a smooth operation without lag, although you can let a few occasions of lagging slip through. Design-wise, gaming phones also tend to have better appeal with more attractive aesthetics, making them look cool and futuristic.
Gaming Phones tend to be on a larger scale design-wise compared to normal phones. Now while you might have difficulty holding it up to take a call, there's a good reason for this design. Most gaming phones tend to heat up quickly due to the power output created by the games.
This is why instead of the usual single large battery, gaming phones come equipped with two separate ones that are smaller but together provide excellent output. You will experience faster charging due to the reduced heat stress on a single power cell. The only issue we have discussed is the size which makes it difficult to carry.
For headphones users, the next part is undoubtedly a plus point. As you might know, people prefer gaming with wired headphones because they provide better audio quality. They are better for gaming due to the physical connection of the wire with the headphone jack. With technology evolving, the headphone jack design has been seeing less and less light.
Not with gaming phones, though, as they still retain the headphone jack for you to connect your wired headphones. Now you don't have to look for a new pair of expensive wireless headphones to play games if you already have a wired one.
Gaming Phones have a new mode available, known as a gaming mode, which enhances the game for a better experience. A software launcher is used in this mode to organize all your games under a single section so you can find them in one place.
You can start your games from there, and due to the game mode features, you might experience smoother gameplay. Gaming Phones also include slow charging. Now, you may be asking why slow charging is a good thing. It's due to the heating issue of the gaming phone. Slow charging uses less power, reducing the production of heat from your phone.
Must-Have Components in a Gaming Phone
Now that you know more about what a gaming phone entails, you should find out how to choose the right one before diving into our list of the best gaming phones under 15000 Taka in Bangladesh.
A good gaming phone usually has a chipset of snapdragon 700-800, but you can still play some good games with the snapdragon 600 series. It's the GPU or graphics card for your phone, and the better the GPU, the clearer the graphics. A good amount of RAM is also necessary for a smooth gaming experience. For lag-free gaming, you should always look for a gaming phone with at least 4-8 GB RAM or above.
Gaming drains a lot of power. There's no doubt about that. That's why you need a good battery capacity to get you through your gaming sessions without your phone losing power mid-way through. You should be looking for a phone with a battery capacity of 4000mAh to 5000mAh.
A phone with a higher refresh rate will provide a faster gaming experience. Most phones will be stuck at 60Hz, but anything faster is better for gaming. If you have a better refresh rate than your opponents, it might make a real difference in playing style.
You finally have a complete list of the best gaming phones under 15000 Taka in Bangladesh, so make your choice consciously. You'll be stuck with your phone for a long time, but we hope you have a pleasant gaming experience without complaints about our options.
There's always something out there for your budget; with this list, you'll definitely find what you're looking for.
Leave A Reply
Your email address will not be published. Required fields are marked *