Oppo 3 Camera Phone List And Review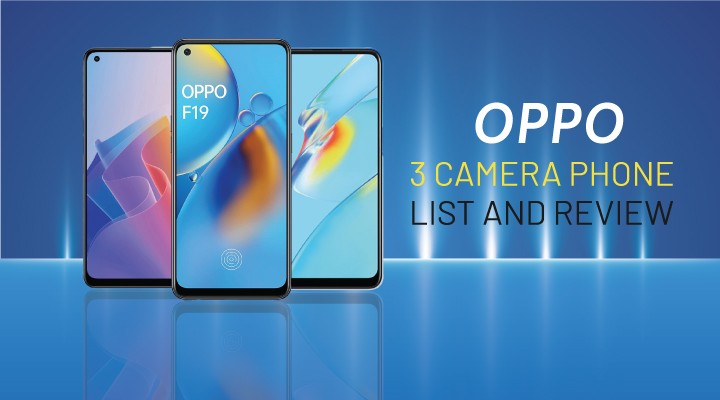 Oppo 3 Camera Phones: Simplify Your Needs
If you ask anyone what they'd like to have in a good smartphone, you'll probably hear them say they want a phone with a good camera. When you live in this time of the internet and social media, it's not hard to see why people prefer quality cameras.
You still get all you need from a high-quality phone but at a lower price. If you need a new phone, check out our list of the best Oppo 3 camera phones in Bangladesh.
1. Oppo F21 Pro
2. Oppo A45
3. Oppo Reno 5
4. Oppo F19
Expand Your Possibilities with Oppo 3 Camera Phones!
Selfie culture is rising right now, and everyone is obsessed with taking pictures or selfies so they can upload them to their feed on social media apps.
When you're looking for a phone which has excellent camera quality, then Oppo might be just what you're looking for. They produce budget-friendly phones, but the slash in price doesn't affect the features too much.
Before getting into our list of the top Oppo 3 camera phones, take some time to learn a bit more about the brand, so you don't end up disappointed about your choice. Staying aware of what you're buying is always a wise choice.
Oppo is one of the best brands for photography and has been ever since it entered the global market a long time ago. Around 2012 Oppo phones became popular amongst buyers looking for phones to take selfies with. The selling point is the built-in beautifying features these phones seemed to come with. Featuring Ultra HD cameras and 5x zoom, Oppo was a pioneer for many phones in terms of camera quality.
If you're looking for a great budget phone, then Oppo is the best choice you could make. There's a phone for every price range with many features to make every phone experience smoother than the last. You can easily find an Oppo phone within the 15000-30000 price range, and most phones in this range are great budget options.
They put focus on improving what they already have on their phones. This way, their phone features don't become outdated and can compete with phones from different brands.
Oppo usually makes phones for customers who use social media apps a lot. It's why they also focus on battery life along with camera quality. You can play games and run social media apps for hours without fear of your battery running out too fast. You can easily find an Oppo phone with a long-lasting battery lifespan ranging from a capacity of 4000mAh to 5000mAh. A reason for such a large battery is that Oppo understands its customers well, they know you need a good battery, and they deliver.
Oppo 3 Camera

Phone List And Review

If you're looking for good phones within a low price range, you don't have a lot of options available in the market. But Oppo is offering something that you can't resist.

Now that we've clarified what you need to know about Oppo, it's time to look at our list of the best Oppo 3 camera phones in Bangladesh. We don't claim that these are the best 3 camera phones in Bangladesh. But if you consider their price range, they offer more than what you could expect.

The following phones should grab your attention, so check them out:

If you're looking for a high-quality Oppo phone, then the F12 Pro is the way to go. The phone has 8GB RAM and a total storage capacity of 128GB, so you have space to store large files without having to delete anything important.

It features a body made of lightweight material, and the camera quality is crystal clear thanks to the 108 MP image quality. You get everything you want and more with a 4500 mAh battery that can provide as much power as you need.

This phone is one of the best budget-friendly options on our list, with three cameras. Despite the low pricing, the phone is still equipped with everything that helps it compete with similar phones priced higher.

You get 6 GB of RAM with a storage capacity of 128 GB which you can't usually get in a price range of 17200 Taka. It has a comfortable grip that doesn't slip easily from your hand. Powered is supplied through a 2.3 GHz octa-core processor and a 5000 mAh lithium-ion battery.

The Oppo Reno 5 is another phone which can match a similar 8 GB of RAM and 128 GB storage space of the F21 Pro but at a lower price of 30240 Taka.

An ultra-slim body provides a less bulky build to hold onto to give an easier grip. This phone is an excellent choice for taking pictures and playing high-quality games, thanks to the 720 G snapdragon process. It also has a cooling system to help lower heat from so much power.

If you need the perfect tools to take selfies with, then the Oppo F19 is the friend you require. The AI beautification feature lets you take any selfie, ideally without error. It can still compete in processing power with 6 GB RAM and 128 GB storage space like our other Oppo phones.

Unlike our other phones, it has a unique design thanks to its 3D curved body. You can get this phone now for 20450 Taka, either in midnight blue or prism black.

Oppo has some of the best phones for camera quality, so we have created this list to help you find what you need. Our list of Oppo 3 camera phones will surely shed some light on these phones so that you can make an educated choice without any regrets.

Don't wait too long. Check out these phones and get yours while the price is still low!
Leave A Reply
Your email address will not be published. Required fields are marked *