Oppo 5G Mobile Phones Under 20000-25000 Taka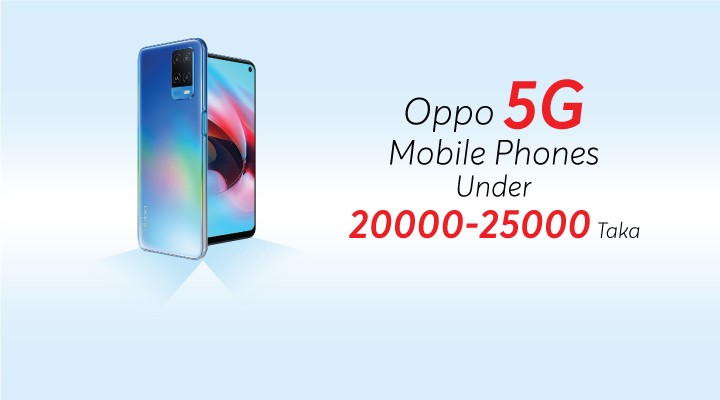 Oppo Best 5G Mobile Phone Under 20000-25000 Taka: Packed With Features
You have finally learned all you need to know, so it's time to get into the main topic. Oppo is a reliable brand that offers excellent phones on a low budget. If you want to get a phone within 20000-25000 Taka in Bangladesh, Oppo is the one you should try!So if you're interested, take a peak below at some of the best Oppo 5G mobile phones we have picked for you.
Oppo 5G Mobile Phones: Better Way of Being Smarter
A mobile phone is your best friend in the current era of technology. You can get by with a simple phone now and then, but it's always nice to have something with updated technology to go with the current times. The problem is that most new phones out there always come with a high cost. It cannot be easy to afford these phones if you don't have a moderate-paying job.
It's where brands such as Oppo come into play. Oppo5G mobile phoneshas many budget-friendly options that make it a preferable choice for phone users. You don't even have to sacrifice new technology with their cheaper prices!
Why Choose Oppo Mobile Phones?
You can't go wrong with an Oppo 5g mobile phone, but it's never a bad idea to look into why Oppo is the best choice for you. Product awareness is good because you get to learn more about what you're paying for in case it comes with a function you don't like.
Oppo is a famous brand right now, and although it started as a production Center of blu ray devices, it currently stands as one of the top five mobile phone brands in the world. As one of the biggest smartphone developers globally, Oppo has become the choice for millions of customers worldwide. You get options such as fast charging and a perfect camera, all within a budget-friendly price. What more could you ask for?
The thing that makes Oppo stand out the most is its impressive camera technology. It boasts the production of the first-ever camera, which was located under the phone's screen, making it something special. Oppo stands out even more with its motorized camera systems, AI beautification, and the ability to zoom in ten times through its hybrid cameras. Its motto, as stated by Oppo multiple times, is its ability to capture The Real You, which it does through its ability to capture real-time raw images.
Oppo, as a brand, has been known to understand what its customers expect from it. These days most people expect phones which help them to document their everyday lifestyle, and Oppo has been the one to listen to their requests.
It has a specific market in mind, focusing on people who post on social media a lot, uploading their selfies and pictures. If you're one of these people, then Oppo is your brand. Its camera sensors help it to become the best in its class of mid-range phones with an excellent camera.
The primary target for Oppo is the youth of today, who expect good services within a budget-friendly price. It has a loyal consumer base and is one of the top smartphone brands, without even touching the US market. It currently has more influence in the Asian market, making it one of the best choices for phone users in Bangladesh. The company has also made progress
on the design front of phones, with more than 65,000 patents. Despite design not being the focus of its production, it has managed to produce phones that are ultra-thin and even foldable phones!
What Makes 5G Better?
We aren't in an era where 5G phones are really necessary. If you're using a 4G phone, you won't face much trouble, truly. But there's no harm in trying to step up your game in technology. Now you know more about Oppo 5G mobile phones, but for people still confused, we have more to say if you want to learn about 5G.
1. Greater Speed
The first thing about 5G is that you can expect greater speed than 4G mobile phones. A 5G mobile phone's transmission speed ranges from 15 to 20 GB per second. It reduces the waiting time for you to download large files, which usually take more than an hour. You can access files and programs easily without a waiting period.
2. Low Latency
There is always a stalling period between giving an order and waiting for it to be completed. It's usually known as latency, but with 5G phones, you don't have to sit through this problem anymore. 5G phones will have less than ten times latency than that 4G phones as they boast faster transmission speed
It allows us to process orders faster, even from longer distances.
3. More Connected Devices
Due to the fast capabilities of 5G phones, the number of devices connected to the service will be exponentially larger than 4G. Every device that is connected will exchange information at a faster rate in real-time. A single home can support more than a hundred devices through a 5G connection.
Technology can be fickle because what you have right now can quickly go backward in technology within a month. It's mainly due to more high-tech phones coming out rapidly. Competition in the phone industry is too intense, which is why phone companies are always coming out with something new that keeps them at the top.
We have a list of the best Oppo 5G mobile phones made just for you. Their phones will allow you to keep up with future technology updates throughout the following years. All within a budget-friendly price!
Leave A Reply
Your email address will not be published. Required fields are marked *