Pond's White Beauty Spot-less Fairness Day Cream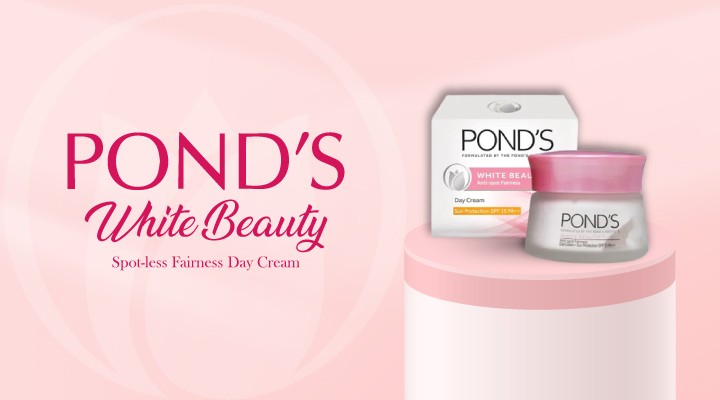 Pond's White Beauty Spot-less Fairness Day Cream: Let Yourself Glow
When you are building yourself the best skincare routine and picking out products for it, it is quite natural to get confused. There are a wide variety of skin care products available in the market, and choosing one that best fits your skin type can get stressful, especially when all of them claim to be better than the others.
Having a wider range of options is also why people tend to prefer the more expensive moisturizer or day cream options. Most people believe there are better ingredients and inexpensive products.
Therefore, it would suit their skin better, giving them faster and better results. However, that is not always the case. There are times when you will do just fine with skincare products from a drugstore. A great example of this would be Pond's White Beauty Spot-less Fairness Day Cream.
Pond's

White Beauty Cream: Beauty is All About You!
Pond's is a company with quite a large number of takers, and they have some of the most sold skincare products. Pond's is one of the more popular and trusted brands in Bangladesh and India. What makes it so popular and the go-to day cream for most women? Well, that is its price. Women of almost every age are using Pond's White Beauty cream because of its amazing affordability.
Another remarkable fact about this day cream, according to many women who have used the product, is that they think Pond's White Beauty Cream is suitable for most skin types since it can easily get absorbed into the skin.
If that is not enough for you, women using this product also say that this cream does not make your skin look greasy or leave a white cast on your face, no matter the season you use it. If you think these are all the benefits you get from this skincare product, then you are wrong. There are a lot more, so keep on reading!
Pond's

White Beauty Day Cream Benefits
When it comes to your skin, you want the best for yourself. Using just another beauty product will cause more harm than it will bring benefit. Sometimes people don't care about the brand if they're on a low budget. However, buying good products should not burn a hole in your purse. And that's where Pond's comes in with its amazing products within an affordable price range for everyone.
The White Beauty Day Cream is a great skincare product on your shelf. We have made a list of the benefits you will get by adding this product to your morning skincare routine.
1. Skin Moisturizer
This day cream is one of the most effective working ones out there. It gets absorbed into your skin quite easily since it has many nourishing ingredients, including glycerine, which also helps keep your skin moisturized for longer.
Women with oily skin types can also use this day cream since it does not make their skin look oily or greasy after applying it. You could also use this as a smooth base to wear under your makeup and stay well moisturized.
2. Say Goodbye to Dark Spots
Research shows that staying under the sun for as little as 10 minutes is enough for you to develop dark spots that are not only stubborn and also hard to get rid of. To make your skin clear and healthy, the White Beauty Cream by Pond's is specially prepared to clear any existing dark spots and prevent any ones from emerging.
It can do this by impeding the melanin when it is being transferred to the surface of your skin. This way, your dark spots and your skin lighten up more. Hence you get a complexion that is spotless and clear.
3. SPF 15
Most people tend not to realize that the sun's rays are bad for your skin. It can cause several skin problems, including premature aging, uneven skin tone, and much more. Even if you wear sunscreen to prevent sun rays, it is better to ensure your day cream has at least a bit of SPF value to protect your skin better. UVB and UVA rays cannot damage your skin due to this added layer of protection.
4. Evens Your Skin Tone
Regardless of age, many people are affected by uneven skin tone, which is becoming a common concern. While UV rays are one of the most common reasons for this, having a poor skincare routine also plays a big part in this. Since Pond's White Beauty Cream comes with a skin-brightening formula, it can give you a healthy and even skin tone.
This day cream has niacinamide infused in it. This helps in treating many different skin problems, such as minimizing wrinkles and fine lines, treating hyperpigmentation, regulating the oil, and also to minimize the pore appearance on your skin.
5. Vitamin B3
Niacinamide, which is also known as Vitamin B3, is something that is used in many skincare products. Vitamin B3 has been proven to be a potent and effective lightening agent that helps to reveal spotless and beautiful skin on the outside by removing the dark spots from within.
The skin-lightening and brightening properties of the White Beauty Cream from Pond's can help your skin look a lot more radiant and healthy with regular use. For maximum benefits, use this cream after cleansing your skin every morning.
Pond's White Beauty Spot-less Fairness Day Cream would be a great addition to your morning skincare routine. It not only brightens and energizes your skin but also protects it from harmful rays and waves from the sun. On top of it, you can get it easily without pre-ordering and waiting for months.
Get Pond's White Beauty Spot-less Fairness Day Cream now to make your skin glow at a very affordable price.
Leave A Reply
Your email address will not be published. Required fields are marked *