Realme Budget Phones Under 15,000 BDT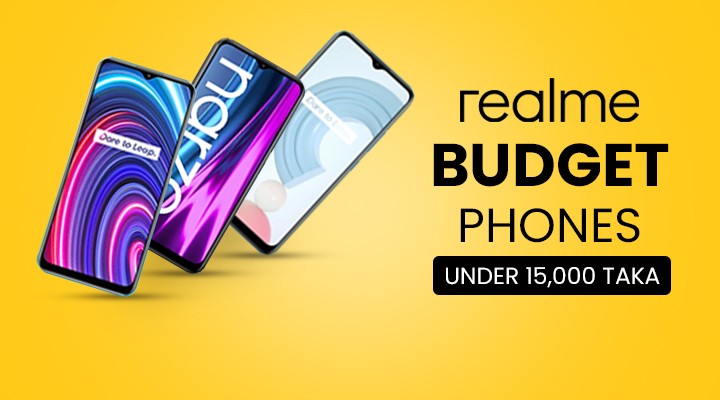 Realme Budget Phones under 15,000 Taka

: Cheapest But Best!

Before we give you have a general idea about the history of Realme as a company and the authenticity of its phones, let's take a look at some of the budget phones that the company makes. You can find the one you like from these options if you're looking for a Realme phone under 15,000 Taka or a budget-friendly phone in general.

1. Realme C21

3. Realme C25Y
Realme Budget Phones: Your Needs Shouldn't Cost So Much!
There are many great options to choose from if you have a hefty pocket and want to spend some on getting the top-end flagship phone, but what if you do not? If you cannot afford to splurge on a new phone and have a budget, what phone should you get? It can quickly get confusing since, with the technology growing even more by the day, there are many more options in the budget phone department.
Realme is one of those options; in our opinion, it is definitely one of the better and more reliable options you can come across. Most budget phone options tend almost always to have something missing so that they can cut down the costs, but Realme is different.
They do their best to sacrifice as little as possible to ensure customer satisfaction. So, find the one you like from the listof the best Realme phones under 15,000 Taka that you can find in Bangladesh.
What is Realme?
Before we get down to our list of some of the best Realme budget phones, let us first talk about the company itself. The reliability of a company matters when it comes to buying its products or services. It becomes even more crucial for mobile phone companies.
As most people could have guessed, Realme is a company that comes from China and they are based in Shenzhen. Before this company became a separate entity and started going by the name Realme, they were a part of another smartphone company called OPPO. OPPO is also a part of the BBK Group. Back in 2018, Realme took the step and separated itself from them, and it finally became an entity of its own.
Sky Li, the person who is head of the Overseas Department and also the Vice President of OPPO, confirmed the independence of the company himself. On the 30th of July in 2018, Sky Li confirmed that Realme would be separated from OPPO and BBK and become an independent brand.
Li had also confirmed through Weibo that Realme would become a company that will focus on making phones that are not only stylish and affordable but also have great specs inside so that they can appeal to young and creative minds. Sky Li also changed the company's motto to "Dare to Leap" to emphasize his ideas and plans.
Growth of Realme
One of the major reasons why Realme saw such expansion is their budget-friendly phone options, including Realme phones under 15,000 Taka in Bangladesh.
Realme launched three phones from 2018 to 2020, Realme X, Realme X Lite, and Realme X Master Edition, and with these three phones, the company showed rapid growth. Realme quickly took over the market in India. Moreover, they beat OPPO in market share and sales.
The company even expanded into Europe in 2019 and also started expanding in its native market in China. This company's rapid growth made it one of the fastest-growing smartphone brands. Realme's growth was so rapid and big that it was the only company to post double-digit growth, year on year.
What enabled Realme to do all this was its focus on expanding into new markets. They also focus on making their designs, hardware, and specs innovative. Their main goal is to make good phones and sell them on the market considerably less than most of the other competition.
According to many reports, during 2019, Realme had a massive spurt in its growth, which increased its sales by 848%. Thanks to the unexpected growth of the company, Realme has now been able to expand to more than 20 markets, this includes Europe, India, Southeast Asia, and China.
Who is the Owner of Realme?
As we have already mentioned, Realme started as a part of OPPO, which BBK owns. Back in 2018, the Head of the Overseas Department, and Vice President, Sky Li, initiated making Realme an independent brand.
Sky Li formed Realme after redesigning OPPO. However, something to note is that no one can say if BBK has any role to play in the running of Realme. When Li announced the independence of Realme as a separate brand, the language he used made it seem like Realme was going to launch as an independent company, but looking behind the curtains, many reports show Realme as a part of the holding group of BBK.
If the reports are accurate, it will make Realme a brand that operates and acts as an entity of its own but is quasi-independent. It would still fall under BBK alongside other companies such as OPPO, Vivo, and One Plus.
Realme is following a similar strategy to One Plus and is focusing on targeting the market of users more on the lower end. The company is trying to appeal more to the mass of people who want a good phone that comes with solid tech but do not want to spend a fortune on a phone like the high-end Samsung phones or iPhones.
With increasing technology, we are getting better and smarter phones, but the prices of these phones are also rising. Finding a budget phone that doesn't sacrifice much regarding design and specs is hard.
Realme has some budget phones for people who want a good phone without burning their pockets. Hope you found your desired Realme phone under 15,000 Taka from this article.
Leave A Reply
Your email address will not be published. Required fields are marked *