Things to Consider Before Buying a Good Water Geyser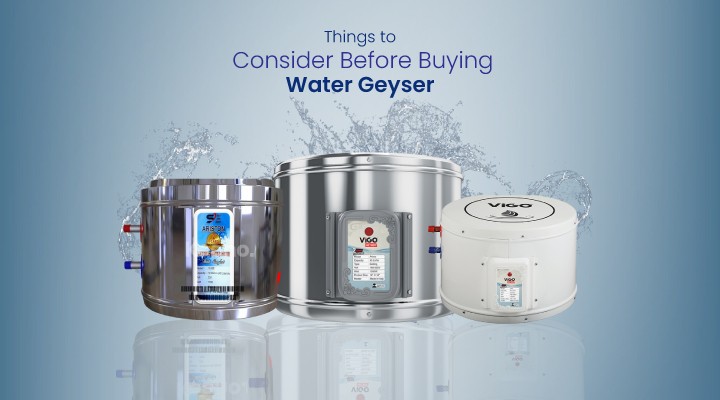 Our Best Value-For-Money Water Geysers
As a leading e-commerce brand, Sookh.com holds everything you might need to make your life easier. Geysers and instant water heaters fall into the same category we are presenting here today.
3. Panasonic Instant Water Heater - DH-3MP1MW
4. Panasonic Instant Water Heater - DH-3KE1M
5. Panasonic Instant Water Heater - DH-3MS1MW
6. Panasonic Instant Water Heater - DH-3RL1
Who Doesn't Love A Warm Bath in Winter!
With winter knocking right at the door, the idea of showering with cold water is already becoming a daunting one. It is just a horrible experience overall. It's where water geysers come in. If you are not familiar with water geysers, they are water-heating machines that you use in your bathroom to protect yourself from the harsh cold water of winter.
However, there are so many different types of geysers out there that it becomes stressful to choose the right one for your needs. We are here to help you with that and to ensure that you make the right decision when choosing the right water geyser for your bathroom.
What Exactly is a

Water Geyser

?
As mentioned above, a water geyser is a machine that heats the water in your bathroom when turned on. It has a heating element inside of it that heats your water.
The thermostat in the geyser checks the temperature of the water; when it is below a specific temperature, it will ask the heating element to heat the water. There is also a storage tank inside the geyser that stores the water, which gets heated.
Things to Consider Before Buying a

Water Geyser
Now that we talked about what exactly a water geyser is and we have a slight idea about the functional components inside of it, we can finally talk about the things you need to consider before you buy yourself a new geyser to fit in your bathroom.
1. Geyser Brand
Many people ignore it when they see a random brand offering a geyser with many fancy features. Going with a trusted brand will always be the safer bet since geysers are meant to be used for a long time.
If you go with cheap geysers, you could end up running into functional problems, or if you choose a brand that no one has ever heard of, you might just run into reliability issues. Choosing a brand that people know and love is better, even if it costs you a bit extra.
2. Efficient

Water Geyser

s
When a geyser is heating the water, it does it with the help of electricity. It makes it essential to use the geyser with care to keep the consumption of electricity low. The thermostat will ask the heating element to heat the water whenever it goes below a specific temperature when the geyser is on. You should get a geyser that is energy efficient to keep this under control.
While an energy-efficient water geyser can help solve your problems a little, it is ultimately up to you to turn off the geyser once you are done with your shower if you want to lower the electricity consumption.
3. Material of the Geyser Tank
Before buying a geyser, you should make sure you know what material the tank of the geyser is made of. Remember that the tank is an essential component of a geyser, and cheap companies often use metals like mild steel to construct their geyser tanks.
Not only will your electricity consumption increase with cheap metals, but the tank's material also dictates your geyser's longevity. Geysers that are a bit more pricey tend to have their storage tanks made of better material, making them more efficient and longer lasting.
4. Get Your Geyser Depending on the Condition
There are many types of geysers available on the market when you look. You need to pick one that best fits your home and environment. For example, if you are looking for a geyser for a bachelor's nest, you would do just fine with something like an instant geyser.
However, if you are looking for a geyser that will serve a family of multiple people and be fitted inside a home, then you would do better with a solar geyser to save a bit on the electricity cost.
On the other hand, if you are in a flat or an apartment, your best bet would be to go for any electric geyser that works best for you.
5. Size of the Tank
Many people tend to forget that a geyser with a bigger size can cater to more people easily. Depending on your usage and requirement of the geyser, you should get one in a size that works best for you.
Getting an oversized geyser might be a good choice if you live with a big family and more people need to use the hot water. However, if not, get a smaller-sized water geyser, so you don't need to heat all that extra water and have your electricity bills rack up.
Make sure you choose a geyser based on your habit of consumption as well as your family's so that you do not end up wasting a ton of electricity behind it.
6. Warranty
Checking the warranty is something that skips the mind of most people. You will likely get a good warranty if you get your geyser from a trusted brand. Regardless, you must check the tank's warranty and the heating element before purchasing the geyser.
A good water geyser is not hard to find if you know what you are looking for. It can be hard sorting through all the unreliable ones, but if you follow the steps above, you will likely get a geyser that is efficient and quite durable. We hope this helps you find the right geyser for your bathroom!
Leave A Reply
Your email address will not be published. Required fields are marked *