Top Geyser Price and Brands in Bangladesh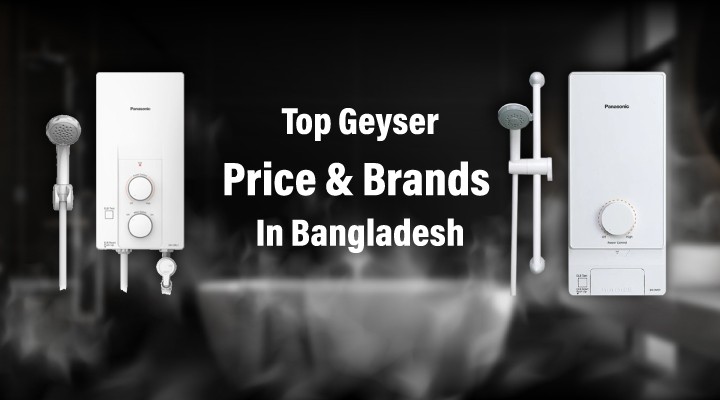 Top
Geyser Price

and Brand in Bangladesh: Only The Best For You!

Buying the right geyser is not something you should be taken lightly because of the importance it will play in your home, so make sure you consider the price before buying it.

Getting a geyser with an appropriate company warranty is significant. Sookh.com offers the best deals in Bangladesh on such household items.

If you are confused about what brands to look into or how much you should pay, check out our list of affordable geyser prices.

3. Panasonic Instant Water Heater - DH-3MP1MW

4. Panasonic Instant Water Heater - DH-3KE1M

5. Panasonic Instant Water Heater - DH-3MS1MW

6. Panasonic Instant Water Heater - DH-3RL1
Warm Shower is Just What You Need to Relax!
Showers are one of the best things you can do to relax when feeling the world's stress. With its calming sounds, the rushing water works wonders in soothing the body when it's taken too much to handle. Cold showers are night, but people prefer hotter showers due to the comfortable feeling of warmth they emit. It feels like a warm hug around your entire body.
If it's a hot shower you're looking for, then why not look at a few geysers online? Turn your shower into a warm fountain with the help of a brand-new quality geyser. Feeling cold during the winter and looking for an excellent way to get warm?
Then why not try a hot shower to help you stop your bones from cracking due to the cooler weather?
How Does A Geyser Help You?
Before we get into the list of the top geyser prices and brands in Bangladesh, you should take some time to learn more about how the type of product you're buying will serve you.
Water geysers work by storing and heating water over time so that you can always have an available hot water supply. It's a convenient way of getting hot water, so you don't have to heat a large saucepan of water every time you want to shower.
Due to the growing water industry, people who want to enjoy the benefits of warm water have been on the rise. Electric water heaters or geysers are a popular addition to a family's home. It is a must for many families with a domestic household, and most geysers in Bangladesh are within a reasonable limit. Let's explore the benefits of installing a geyser in your home.
The first and most important thing to understand is that water geysers serve as a backup source of hot water when you suddenly need it. One day you're taking a shower at night with hot water, and suddenly, the power goes off, causing the flow of water to stop. What do you do when standing in front of your shower covered in soap?
Don't panic because even if there isn't electricity, you can still access the stored hot water from the geyser in your home. There isn't any use of electricity for heating the water, as the geyser does it for you.
When everything is electronic, it might not be surprising to see that you have somehow ended up with a large electric bill. To make sure that this doesn't put a burden on your bank account, most geysers have now been designed to be economically friendly. New geysers always come out with more features that make them use less energy to heat water than your normal means. With things like smart technology, you can now enjoy a hot shower without worrying about a rising electric bill.
Geysers are one of the least hectic tools to install due to their flexibility in placement. A geyser does not need to be specifically close to your bathroom so you can use it. Geysers have been made to fit anywhere in your home, meaning you can have the geyser on one end of your home and your bathroom on the other.
Take a look at your home and choose where you want to install it because installation isn't a burden on your wallet. Most water heaters also have a flow rate that needs to be met for the geyser to function. An electric geyser does not adhere to such a rate making it the best choice for you.
Geyser Prices: They Don't Cost Much!
Most people buying a geyser may worry about both the cost of purchasing the geyser and the cost of installing it. If you're someone with that way of thinking, leave your thoughts at the door because geysers are surprisingly cheap and affordable. Most families need them to get through winter, making it a good thing that geysers are budget-friendly.
You can buy either a storage geyser or an electrical geyser. Although friendly for the environment and user, an electric geyser will still take a small place on your electric bill. It might be lower than your typical electricity cost, but you still have to pay.
If you're looking to save some money, then a storage geyser will be the best as it doesn't carry additional costs for heating water. The quality and capacity will play a significant factor in the price, although you can expect to find geysers within a range of Taka 4,500 to Taka 30,000.
A water geyser will be your best friend when you want to get ready to handle the coming winter cold. Indeed you will have an easier time deciding on your final choice after looking at our list of the best geyser prices in Bangladesh.
Don't let the chilly weather get you sick, and fight off the cold with a hot shower every night to calm and soothe you, body and mind!
Leave A Reply
Your email address will not be published. Required fields are marked *